Montréal, July 30, 2015
The St-Hubert restaurant in Drummondville now offers a fast-charge station for electric vehicles
Fast-charging station at St-Hubert in Drummondville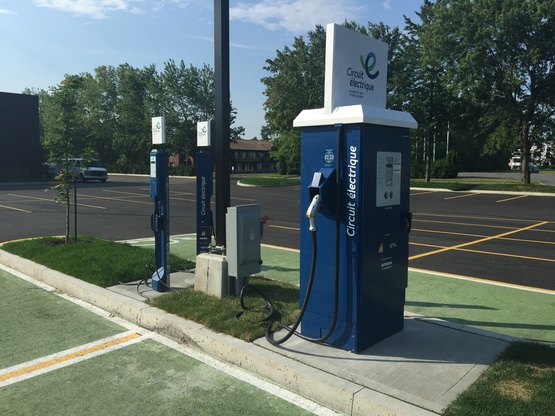 The St-Hubert restaurant in Drummondville has commissioned a fast-charge station in partnership with the Electric Circuit and Nissan Canada. Located at 125, boulevard St-Joseph, near exit 177 of Highway 20, the charging station is easily accessible.
This addition brings to 13 the number of fast-charge stations now in service in Québec. All-electric vehicle users can charge their battery to 80% in 20 to 30 minutes.
Les Rôtisseries St-Hubert, one of the four founding partners of the Electric Circuit, has once again demonstrated the extent of its commitment to transportation electrification by offering charging stations at their locations. They also use a fleet of electric delivery vehicles.
Top of page